News
More from the 2012 XTERRA World Championship
October 30, 2012By XTERRA Media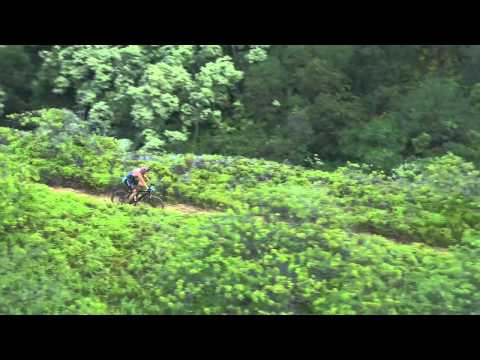 GOMEZ NOYA AND PATERSON STORM THE XTERRA FIELD IN MAUI
A tsunami warning for the Hawaiian Islands was canceled early on Sunday morning, and then Javier Gomez Noya and Lesley Paterson went out and stormed the competition at the 2012 XTERRA World Championship at the Ritz-Carlton Kapalua on the island of Maui.
Gomez Noya was the overall winner, completing the course (1.5-kilometer swim, 30K mountain bike, 10K trail run) in 2 hours, 26 minutes, 50 seconds. The 29-year-old from Spain followed up his silver medal performance at the 2012 Olympics with an impressive victory in his inaugural XTERRA appearance.
Paterson was the top female, not only repeating her accomplishment of a year ago, but bettering it. She finished with a time of 2:44:11, which was nearly two minutes faster than her winning time of a year ago.
A capacity - and XTERRA World Championship record - field of 750 athletes from around the world participated in the event, which was held on Maui for the 17th consecutive year.
As if the lead-in drama to the event were not enough, a tsunami warning was issued for all of the Hawaiian Island late Saturday night. Many of the athletes stayed up late trying to get updates on the tsunami, and some were even evacuated from their hotels or homes.
"I think maybe some of the athletes had to evacuate or had to stay up a little bit later, but I don't think it had a big influence on the race," said Conrad Stoltz, who placed third overall. "I think we were lucky to have a fair world championship."
Indeed, the conditions did not adversely affect the race, although an expected swell did create a rougher-than-normal ocean swim.
Men's race: Gomez Noya proves his XTERRA worth
All of the XTERRA pros know who Javier Gomez Noya is. He is, after all, a two-time ITU triathlon world champ in addition to the 2012 Olympic silver medalist. They just didn't know how good he might be on an XTERRA course.
He turned out to be exceptional. Gomez Noya made quite the XTERRA debut, running away to the overall win.
"I didn't expect that," Gomez Noya said. "I had a really good swim … but I knew these guys like Conrad (Stoltz) and the good mountain bikers, they are much better than me, especially on the technical sections, so my tactic was try to push really hard uphill because then you can go hard uphill and then on the downhill just not even try to go crazy fast, just try to recover and avoid crashing. It worked pretty well."
Gomez Noya won it with an astonishing swim and a strong finishing run. He exited the water by himself, with the others more than a minute behind. He maintained the lead for most of the bike, before Conrad Stoltz passed him late on the course.
"I was surprised they caught me so late," Gomez Noya said. "It was mile 14, maybe something like that when Conrad came. The last technical section before transition, he made a little gap, maybe 20 seconds, 30 seconds."
Stoltz's lead would be short-lived, as Gomez Noya regained control early on the run course. "Javier is an amazing all-around athlete," said Stoltz, who owns a record four XTERRA world titles. "When I heard he was going to do this race, I knew he was definitely going to be a factor. Apart from his amazing physical abilities, his mental game is top notch."
Gomez Noya, who received $20,000 for the overall victory, had the fastest swim and run times of the day.
XTERRA USA Champion Josiah Middaugh from Colorado also passed Stoltz during the run and finished second in 2:27:40. He has been chasing the XTERRA world title since 2001, and this was his best showing to date.
"I'm very happy with my race, I felt like I had the best day that I could with the skills that I have," said Middaugh, 34. "Lost a ton of time in the water and I knew that was going to be the story."
Middaugh came out of the water nearly four minutes after Gomez Noya, and the difference proved to be too much, even though Middaugh had the fastest best bike time of the day (1:23:34).
"We knew he was the most talented guy here, we just didn't know how his skills were on a mountain bike," Middaugh said of Gomez Noya. "We had a really hard time making back time on him. He raced really smart."
Stoltz placed third in 2:30:03, and held off Costa Rica's Leonardo Chacon late in the run. "I didn't see Josiah until 2K into the run," Stoltz said. "He came flying by."
Chacon finished fourth, just 16 seconds behind Stoltz. Victor Del Corral from Spain was fifth, just four seconds behind Chacon. It was the XTERRA World Championship debut for Chacon and Del Corral.
The top 10 men were an indication of the international diversity of the field. Eight countries were represented in that top 10, including sixth through 10th: Brent McMahon (Canada), Asa Shaw (France), Tim Don (United Kingdom), Yeray Luxem (Belgium) and Olivier Marceau (France).
Former XTERRA world champs Nicolas Lebrun from France and Eneko Llanos from Spain placed 11th and 12th, respectively.
Sebastian Kienle from Germany placed 14th just two weeks after placing fourth at the Ironman World Championship on the Big Island. He was the only professional to enter both races, and was thus the winner of the Hawaiian Airlines Double Award and $2,500.
Gomez Noya is the third Spaniard to win the XTERRA World Championship, joining Eneko Llanos (2003, 2004, 2009) and Ruben Ruzafa (2008).
Post-Race Pro Interview with top 3 men and women
2012 XTERRA WORLD CHAMPIONSHIP PRO MEN
Pl Name Age Hometown Final Time Purse
1 Javier Gomez Noya 29 Pontevedra, Spain 2:26:54 $20,000
2 Josiah Middaugh 34 Vail, Colorado 2:27:41 $12,000
3 Conrad Stoltz 39 Stellenbosch, South Africa 2:30:04 $7,000
4 Leonardo Chacon 28 Liberia, Costa Rica 2:30:19 $4,000
5 Victor Del Correl 32 Santa Olivia, Spain 2:30:24 $2,500
6 Brent McMahon 32 Victoria, B.C., Canada 2:30:56 $1,500
7 Asa Shaw 28 Frejus, France 2:32:16 $1,000
8 Tim Don 34 London, United Kingdom 2:32:41 $800
9 Yeray Luxem 26 Merkem, Belgium 2:33:10 $600
10 Olivier Marceau 39 Vallavris, Switzerland 2:33:36 $500
Also: Nicolas Lebrun, Eneko Llanos, Felix Schumann, Sebastian Kienle, Francisco Serrano, Felipe Moletta, Braden Currie, Mike Vine, Brice Daubord, Jan Kubicek, Sam Gardner, Francois Carloni, Richard Ussher, Jim Thijs, Jean-Philippe Thibodeau, Pierre-Yves Facomprez, Branden Rakita, Llewellyn Holmes, Mark Leishman, Cody Waite, Jan Francke, Cid Santos, Takahiro Ogasawara, Craig Evans, Ben Allen, Damian Gonzalez, William Ross, Jimmy Archer, Kenji Takeya, Yu Yumoto, Denilson Freitas
Women's race: Paterson prevails again
After breaking through for her first XTERRA World Championship last year, Paterson did it again. She was the top female, finishing with a time of 2:44:11.
"It was perfect from start to finish for me," she said. "I've done some great training leading up to this. This was my big focus of the year, and it panned out exactly how I wanted it to."
The 32-year-old from Scotland took the lead early in the bike and then ran away from the other women. She finished more than four minutes ahead of runner-up Barbara Riveros (2:48:18) from Chile. Marie Rabie from South Africa was third in 2:53:55, and Heather Jackson from Carlsbad, Calif., was fourth in 2:54:12. Riveros, Rabie and Jackson were all making their XTERRA World Championship debuts.
Paterson's reputation has always been as a running specialist, but she has taken her mountain bike skills to a higher level in recent years and she now has two XTERRA world titles (and an ITU Cross World Championship) to show for it.
"I've done a lot of running off the bike, a lot of strength running off the bike, so I was prepared for that," Paterson said. "To be honest, the bike felt real comfortable and I didn't push it too hard so I knew I could come out and do a good run. I knew these ITU girls are quick runners so I had to really have my A game for that."
True to form, Paterson had the best run time of the day (40:51), but for the first time in her five years of entering the XTERRA World Championship, she posted the fastest bike time among the women.
Paterson received $20,000 for the victory and is now one of three women with multiple XTERRA World Championships. Julie Dibens (2009, 2008, 2007) and Melanie McQuaid (2006, 2005, 2003) are the others.
"Congratulations to Lesley, she's awesome," runner-up Riveros said. "I think I have to do more hard work. I can't just come here and say I know how to ride a mountain bike."
It was also an impressive debut for Riveros, who was the only female to get remotely close to Paterson. "I'm pretty happy," Riveros said. "To race XTERRA was one of my dreams, so I really enjoyed to race here."
Third-place Rabie proved her worth on the trails, following a fourth-place finish at the 2012 Olympics. She got off to a quick start, leading the women out of the swim, and then got passed only by Paterson and Riveros.
"It was totally unexpected," Rabie said. "Nothing compared to Lesley. She just flew past me on the bike, and I was kind of waiting for the other girls to catch me and they never did."
Heather Jackson had a strong run to finish in fourth place, and Jacqui Slack from the United Kingdom took fifth.
Rounding out the top 10 were (in order): Magali Tisseyre from Canada, Renata Bucher from Switzerland, former XTERRA world champ Shonny Vanlandingham from Colorado, Helena Erbenova from Czech Republic, and Marion Lorblanchet from France.

PRO WOMEN
Pl Name Age Hometown Final Time Purse
1 Lesley Paterson 32 San Diego, California 2:44:12 $20,000
2 Barbara Riveros 25 La Pintana, Chile 2:48:19 $12,000
3 Mari Rabie 26 Stellenbosch, South Africa 2:53:56 $7,000
4 Heather Jackson 28 Carlsbad, California 2:54:13 $4,000
5 Jacqui Slack 29 Stoke-On-Trent, United Kingdom 2:55:19 $2,500
6 Magali Tisseyre 31 St-Sauveur, Canada 3:01:11 $1,500
7 Renata Bucher 35 Littau, Switzerland 2:01:51 $1,000
8 Shonny Vanlandingham 43 Durango, Colorado 3:02:24 $800
9 Helena Erbanova 33 Jablonec Nad Nisou, Czech Republic 3:03:48 $600
10 Marion Lorblanchet 29 Lempdes, France 3:04:21 $500
Also: Elizabeth Orchard, Danelle Kabush, Melanie McQuaid, Brandi Heisterman, Katie Button, Caroline Colonna, Tamara Donelson, Catherine Dunn
American teens take amateur titles
Among the age-group amateurs, a pair of California teenagers took the spotlight. Neilson Powless from Roseville, Calif., was the top overall amateur with a time of 2:42:35, while Hannah Rae Finchamp from Altadena, Calif., was the top female amateur in 3:05:55.
Powless is 16 and a sophomore at Roosevelt High School; Finchamp is 16 and a junior at Maranatha High School. They are the youngest male and female to ever win the title of top overall amateur at the XTERRA World Championship.
It is also the first age-group XTERRA world title for Powless. Finchamp is now a three-time XTERRA world champ in the female 15-19 age group.
Powless exited the water in 15th place among the amateurs, but he eventually caught them all. His overall finishing time was 14 seconds ahead of New Zealand's Oliver Shaw.
Finchamp's win wasn't nearly as close, as she finished more than seven minutes ahead of the next amateur female. Her finishing time would have placed her 13th among the pro women.
Colorado's Anne Gonzales, who is 51, placed second among the amateur females with a time of 3:13:00. Sarah Backler from New Zealand was third in 3:14:55.
Here is the full list of age-group champions:

XTERRA WORLD CHAMPIONS (MALE AGE GROUP)
Div Name Hometown Time
15-19 Neilson Powless** Roseville, CA 2:42:35
20-24 Oliver Shaw Rotorua, New Zealand 2:42:49
25-29 (2) Jiri Klima Osek Nad Becvou, Czech 2:44:46
30-34 (3) Tim Van Daele Burcht, Belgium 2:43:59
35-39 Antonio Martin Del Campo Guadalajara, Mexico 2:53:11
40-44 (3) Thomas Vonach Schwarzach, Austria 2:48:28
45-49 Benoit Lalevee St.Nazaire Les Eymes, France 2:55:40
50-54 (2) Casey Fannin Birmingham, Alabama 3:09:00
55-59 Dennis Brinson Carson City, Nevada 3:13:03
60-64 Tryg Fortun Kenmore, Washington 3:24:10
65-69 Michal Mogrovics Olomouc, Czech 3:56:52
70-74 Roger Kern Scotts Valley, California 5:30:38
75-79 Nathaniel Grew South Woodstock, Costa Rica 6:06:56
CEO Mike Cabigon Edmonton, Canada 2:52:15
PC (7) Fouad Fattoumy Honolulu, Hawaii 3:34:22

XTERRA WORLD CHAMPIONS (FEMALE AGE GROUP)
Div Name Hometown Time
15-19 (3) Hannah Rae Finchamp** Altadena, California 3:05:55
20-24 Elizabeth Gruber Redding, California 3:23:04
25-29 Becci Kaltenmeier Freiburg, Germany 3:21:48
30-34 Sarah Backler Tauranga, New Zealand 3:14:55
35-39 Kristen Tamburrino St. Catharines, Canada 3:21:25
40-44 Mimi Stockton Stevensville, Michigan 3:20:41
45-49 Carol Rasmussen Karlslunde, Denmark 3:33:09
50-54 Anne Gonzales Aspen, Colorado 3:13:00
55-59 Lucia Colbert Cordova, Tennessee 3:49:55
60-64 (2) Sharon Prutton Christchurch, New Zealand 4:00:43
65-69 (2) Kathy Frank Santa Cruz, California 6:07:13
PC Judith Abrahams Kenai, Alaska 5:41:22
(#) denotes number of World Championships won - **Top Amateurs
Special award winners
Sebastian Kienle from Germany was the only pro competitor to take on both the XTERRA World Championship on Maui and the Ironman World Championship in Kona two weeks prior. He placed 14th in the XTERRA race and fourth in the Ironman, thus winning the Hawaiian Airlines Double Award and $2,500.
Age-group amateur winners of the Hawaiian Airlines Double Award were Anthony Snoble from New York and Martha Koekemoer from South Africa. They each received round-trip air tickets for two on Hawaiian Airlines. Here's a look at all the doublers…
Name (Hometown) Division Division IM Time XTERRA Time
Sebastian Kienle (Hohenklinger, Germany) MPro 8:27:08 2:36:30 11:03:38
Anthony Snoble (East Islip, NY) M35-39 10:06:37 3:14:54 13:21:31
Brett Dunstan (Geelong, Victoria, Australia) M40-44 10:15:33 3:18:03 13:33:36
Patrick Clark (Aiea, Hawaii) M35-39 10:34:51 3:08:11 13:43:02
Martha Koekemoer (Cape Town, South Africa) F35-39 10:49:21 3:23:50 14:13:11
Pablo Ureta (Huerta Grande, Argentina) M30-34 11:46:33 2:58:57 14:45:30
Keri Grosse (Spokane, Washington) F45-49 11:32:20 3:34:42 15:07:02
Erica Dueger (Concord, New Hampshire) F45-49 11:30:25 3:49:30 15:19:55
Rebecca Fondermann (Bonn, Germany) F30-34 11:44:16 3:41:31 15:25:47
Carol Rasmussen (Karlslunde, Denmark) F45-49 11:54:58 3:33:10 15:28:08
Winners of the Leilani's Run Prime Awards were Javier Gomez Noya (pro men), Lesley Paterson (pro women), Daniel Molnar (amateur men), Mimi Stockton (amateur women), Douglas Piil (Maui resident men) and Pamela Garcia-Neveu (Maui resident women). They each received certificates from Leilani's on the Beach restaurant as the fastest runners on the 10K run course in their respective divisions.
Winners of the XTERRA Wetsuits Swim Prime Awards were Daniel Nelson and Hannah Rae Finchamp. That award goes to the fastest age-group swimmers.